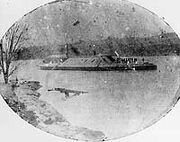 CSS JACKSON (1864) (also known as CSS Muscogee)
Built: Columbus, Georgia
Commissioned: Incomplete
Service: Chattahoochee River, Georgia
Home Port: Columbus, Georgia
Dimensions: 223.5' Length, 56.5' Beam, 8' Draft
Armor: Unknown
Armament: 4x7 Brooke Rifles, 2x6.4 Brooke Rifles, 2x12lb Boat Howitzers
Engines: Probably Single Screw
Speed: Unknown
Crew: Unknown
Fate: Destroyed to prevent capture, April 1865

Summary
This large and impressive ironclad, called both Muscogee and Jackson in Confederate records, was constructed near Columbus Georgia. She had experienced some delays, but was proceeding on schedule and was near completion when Wilson's Raider's attacked Columbus in April, 1865. Fearing that Union forces might capture the vessel, locals took it upon themselves to burn and scuttle her. Her loss was a huge material blow to the Confederacy, due to the iron, manpower, and armament expended in her construction. If completed, she would likely have been the best ironclad built in Georgia, and one of the more powerful ironclads in service with the CSN. Data about her armor protection remains unclear, but the recovery of her wreck in the 1960s showed strong evidence that she was perhaps a few days short of completion.
Interestingly, this is one of the few ironclads about which we have some indication of color. Anecdotal evidence suggests that her hull was painted in a pale grey or white shade.
Ad blocker interference detected!
Wikia is a free-to-use site that makes money from advertising. We have a modified experience for viewers using ad blockers

Wikia is not accessible if you've made further modifications. Remove the custom ad blocker rule(s) and the page will load as expected.