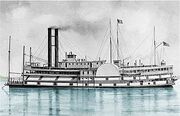 USS BLACKHAWK (1848)
Built: New Albany, Indiana
Commissioned: December 6th, 1862
Service: Mississippi Squadron, 1862-1864
Home Port: Cairo, Illinois
Dimensions: 260' Length, 45'6" Beam, 8' Draft
Armor: Tinclad
Armament: 4x32lb Smoothebores, 2x30lb Rifles, 1x12lb Rifle, 1x12lb Smoothebore
Engines: Dual Side Paddlewheels
Speed: Unknown
Crew: Unknown
Fate: Burned accidentally April 22, 1865 near Cairo, Illinois. Raised and sold at St. Louis, Missouri 1867.

Summary
USS Blackhawk was originally the luxury steamer New Uncle Sam, a name under which she was known briefly in military service from December 6th 1862 through December 13th, 1862, at which point she was rechristened Blackhawk. Confusingly, some period records refer to her throughout her service as both Uncle Sam and New Uncle Sam.
During her service, Blackhawk served as the flagship of two successive commanders of the Mississippi Squadron, Rear Admiral David Dixon Porter and Rear Admiral Samuel Philips Lee. Throughout her career, the ship was (sometimes derisively) referred to as a "floating palace." Her sumputous interior remained largely unchanged during military service, and accomodations for both officers and enlisted men were luxurious compared to the rest of the fleet. Nevertheless, perhaps because of this reputation, both Porter and Lee insisted on strict military decorum aboard ship, requiring formal dress uniform at all times, and constant drilling. The crew may have been rather well accomodated, but they were in a constant state of readiness, and had no illusion that they were stationed aboard warship intended for rear area service.
The ship saw a very active service life, trading gunfire with Confederate vessels, shore installations, and ground formations. Her first major action was to "run the guns" at Vicksburg, before serving at the capture of Fort Hindman, Arkansas, the attack on Haines Bluff, Mississippi, the later siege of Vicksburg, Mississippi, and in the prolonged Red River Campaign. In April, 1865, she accidentally caught fire, causing an explosion in one of her boilers and subsequent sinking about three miles above Cairo, Illinois. She was salvaged in April, 1867, and sold at auction in St. Louis.
Although the details of Blackhawk's armament are generally known, the exact placement of these weapons is somewhat of a mystery. Numerous armored gunports were installed along her bow, beam, and aft section, but this little clue as to how they were used or positioned. Armor protection is similarly a mystery; Blackhawk was probably one of the few Tinclads to actually be protected by at least some actual metal armor, and indeed photos seem to confirm this, but the exact thickness and placement of these armored plates is also a mystery.
Blackhawk's color scheme is generally known from numerous period illustrations. She was predominantly white, with black verticals, stacks, and gunports. The (apparently armored) casemate has been depicted in a variety of colors, including bare metal, depending upon the source.